On hospitalization expenses
Your bill will be calculated from the first to the last day of the month and delivered to your room around the 10th of the following month.
Billing (accounting/payment) counter opening times
Weekdays 8:30 - 16:30
Mornings may be crowded with outpatients. We recommend that you make your payment in the afternoon, when it may be less busy.
Payment methods
Additional billing
You may receive an additional follow-up bill after your discharge due to the processing of paperwork.
Your understanding is appreciated.
On High Cost Medical Expense Benefits
Please speak with the "General Patient Support Center."
If you are unclear about anything
Please ask a nurse or the (5) "Admittance/Discharge Counter" before making your payment.
Special Rooms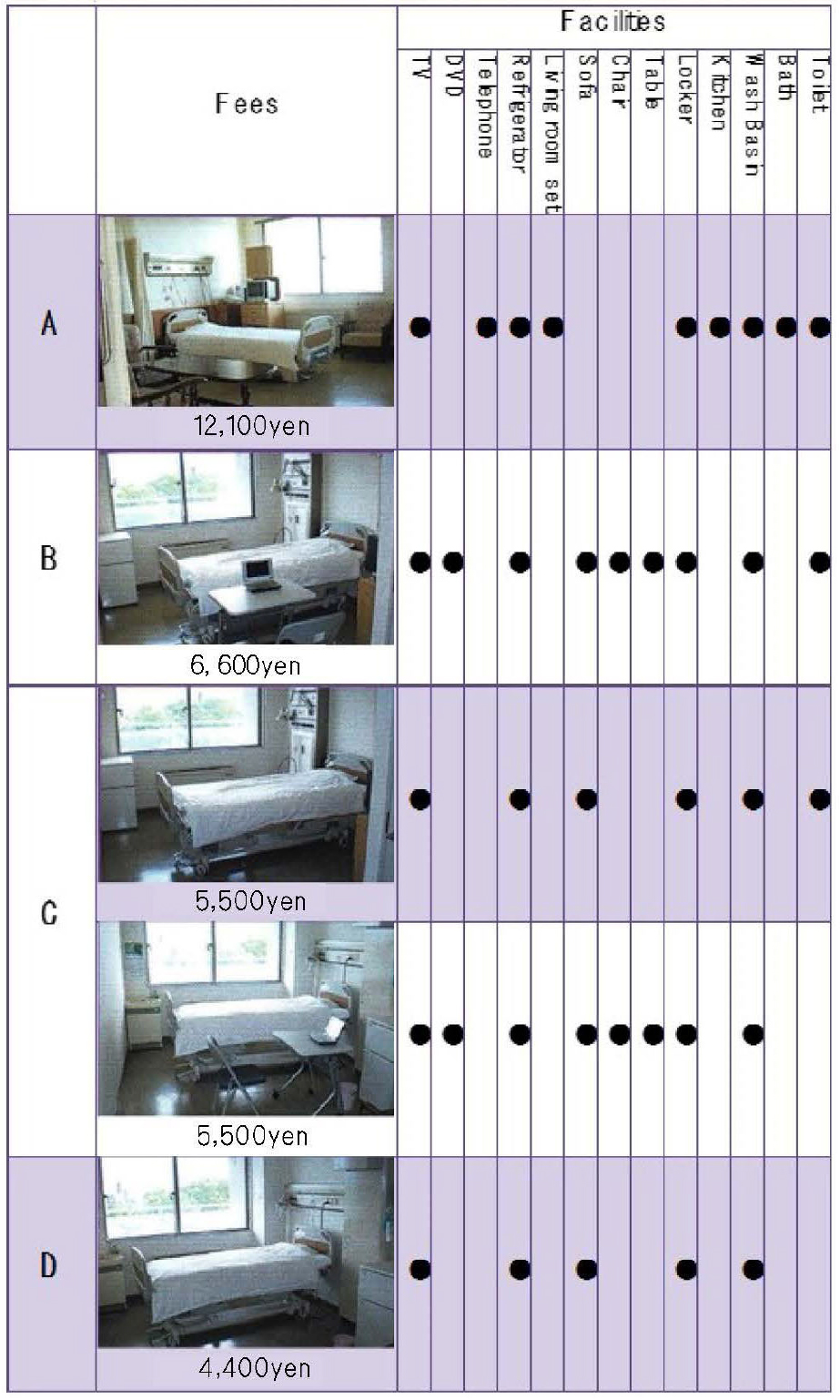 * Special rooms are not covered by insurance; the full amount is payable by the patient.
* Consumption tax is exempted where the stay is for childbirth.
* Use of the TV and the telephone will incur separate charges. (Use of the TV in Room A is included in the price of the room.)
* DVD player is read-only.
* Fees are per day. For an overnight (1 night, 2 days) stay, fees will be payable for 2 days.
Reducing Medical Expenses
On various eligibility certificates
We recommend that patients under 70 years of age apply. Your medical expenses may be reduced upon showing your "High Cost Medical Expense Benefit: Eligibility Certificate for Ceiling Amount Application" during hospital admittance procedures.
Application for an "Eligibility Certificate for Ceiling Amount Application and Reduction of the Standard Amount of Patient Liability" may reduce medical expenses further for patients of 70 years of age or older, who are in households that are exempt from municipal resident taxes.
Where to apply
National Health Insurance: National Health Insurance Counter at your local municipal office
Japan Health Insurance Association: Japan Health Insurance Association Chapter
Mutual Aid Association Insurance: Mutual Aid Association Insurance officer at your workplace
Employment Based, Health Insurance Society Insurance: Health Insurance Society officer at your workplace
Items needed to make an application
Health Insurance Card etc. or Personal seal ("Shachihata" rubber stamp not permitted)
* Social Insurance, National Health Insurance, Latter-Stage Elderly Person Medical Care, Public Assistance, Workers' Compensation, and eligibility documentation related to publicly subsidized/funded medical benefits.
Please note...
Depending on your insurer, it may take a number of days for your eligibility certificate to be issued.
Some insurers do not issue eligibility certificates.
Please ask your insurer for details.